Dimensional Letters & Graphics
Elegant metal signs and letters can cost a bundle. Now there is a lightweight, less expensive, easily crafted alternative. Metal laminated letters deliver the same impact and appeal as metal, but in a durable, versatile foam-centered product. This is the ideal material for decorative letters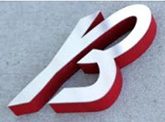 and logos often seen in hotels, banks and office buildings. It can be sawed or routed, is easier to craft than solid metal. It even maintains it's appearance better - the surface is anodized aluminum, which will not rust, fade, or tarnish. The back side is high-quality polystyrene. We also provide aluminum and formed plastic letters.
Foam letters and logos are available in a wide assortment of typestyles and our foam letters will allow dimensional sign letters to be added to your building signage for much less than many other lettering materials. This product is commonly used to present the nice look of three dimensional sign letters with some "depth" to get 3-D effects without the higher cost of some of other sign letter materials.
Foam core board is made by adhering two sheets of paper to both sides of a foam core and is lightweight yet sturdy. It is ideal for all indoor mounting applications.
Easy to cut and customize, foam board is clay-coated for an extra smooth surface. Foam board comes in a variety of colors and is well suited for trade show applications and many other indoor uses. Foam board accepts ink and full-color printing exceptionally well.